Emotion AI to analyze human attentive and affective states
Best-in-class micro facial expressions classification
We develop computer vision and machine learning algorithms to detect and classify face muscle activations encoded as Action Units (AUs) that configure the expression of an emotion.
Data acquisition is via opted-in webcam. It doesn't require any specific hardware.
Muscle activations are measured in real-time, eliminating cognitive bias.
Cloud-based software can analyze thousands of faces around the world.
MEDIA BUYING AND MARKET RESEARCH
Measure audience attention and engagement in just a few clicks
Easy, fast, scalable
Get crucial data to avoid wasting budget on content that is irrelevant to your audience.
Our trusted clients
Successful use cases.

APPLICATION PROGRAMMING INTERFACE
We collect emotions.
You receive data
Seamless integration
Using this API service, it is possible to use our best-in-class emotion recognition technology in real-time, in any application field.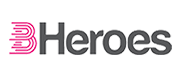 We believe in ethical artificial intelligence
Ethics is a critical issue in AI development. That's why we established the Scientific Ethics Committee by adhering to the seven requirements on ethical development of AI that the European Union is working on.
Partnerships
Our strategic partners