This section is dedicated to all the articles concerning Emotiva.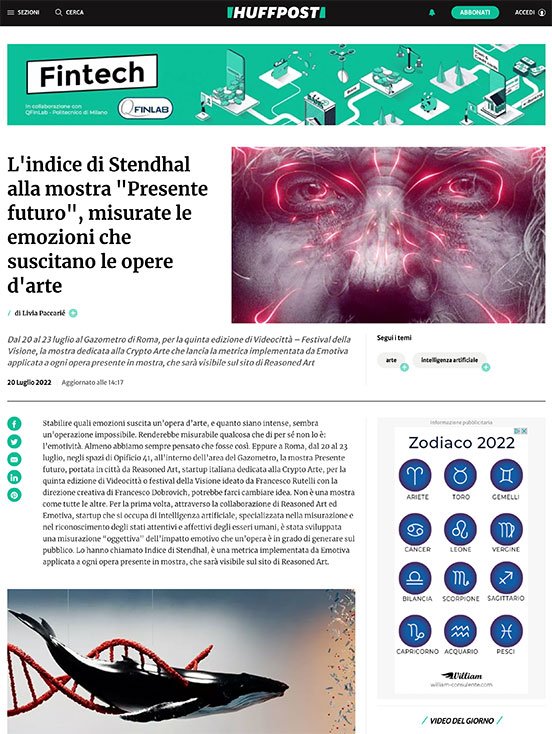 Stendhal index at "Future Present" exhibition, measured the emotions aroused by pieces of art
huffingtonpost.it
Abel, the 'mirror' robot for patients with neurodevelopmental disorders
Fortuneita.com
Who are the five startups that will make the future of Italian artificial intelligence
Money.it
EmPower measures consumer attention
Corriere della sera
The algorithm that understand emotions and attention level
Il Messaggero
Made in Italy AI that recognizes our emotions
CentoDieci
Interview with 2024 podcast on facial expressions and emotions
Radio24
Milan-based AI startup Emotiva raises €610K
Eu-Startups
The startup Emotiva closes a 610k Euro round
StartupItalia
We start by emotions
Wall Street Italia
Emotiva, the startup that reads the face and predicts behaviour
www.askanews.it
Emotiva is one of the new startups of LVenture Group
www.ilsole24ore.com
Investments: how emotions influence our choices
wallstreetitalia.com
Emotiva reveals the logic of emotions
Pubblicità Italia
When emotion triggers the click
Pubblicità Italia
Creativity on emotions' balance
Pubblicità Italia
At the root of consumer choices
Pubblicità Italia
Emotions clearness
Pubblicità Italia
The strategists of emotions
Pubblicità Italia
iShares brings Artificial Intelligence to Assiom Forex
Bluerating.com
Do you need more information?
Fill out the form below and we will contact you shortly.